***NOTE: NO PRODUCTS CAN BE DESPATCHED BETWEEN SEPTEMBER 17 AND NOVEMBER 10TH DUE TO US TOURING OVERSEAS***
Here you can buy our current CD, T-Shirts, Car Stickers and more using your Paypal account. If you do not have a Paypal account and wish to pay by bank transfer, please contact us via email and we will provide you with the necessary details.  lincolnsadelaide@gmail.com 
---
It's here… our latest musical offering in CD form. It goes by the name of "Hundred Dollar Bill" and it contains 8 originals and 8 covers. Critically acclaimed by my Mum and Nan, this CD is expected to rocket to the top of the pile of CD's in the bargain bin at your local outlet, but why wait until then when you can buy it online at full price today:
Click the picture to enlarge.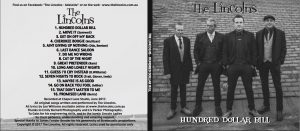 Australia Only: Priced @ $24.50 includes P&P of $4.50 
Rest of the world: Priced @ $26.50 includes P&P of $6.50
Don't want to wait for the CD? Download it in mp3 right here 
CD Baby
New T-Shirts available now: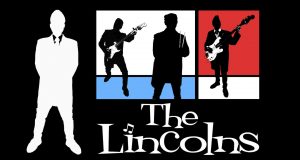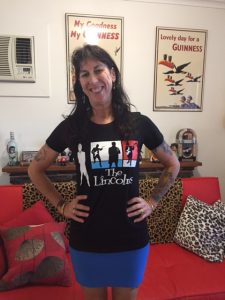 These can be purchased at a gig for $25.00 or can be bought online by clicking the links below. Cost for T-shirt and postage is $35.00 (Australia only. Overseas customers contact us for a shipping price)
Ladies Size chart: 

Available in Ladies:
Small 
Medium 
Large 
XL 
Mens Size Chart
Available in Mens:
Medium 
Large 
XL 
---
" Tingalingin' " 10 Originals plus 5 covers***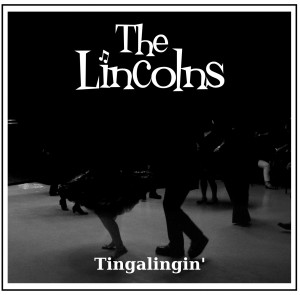 Note: we only have the UK release of this CD available at present "Kings of the Coop".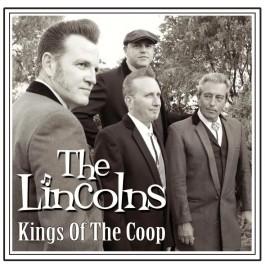 Australia Only: Priced @ $27.50 includes P&P of $7.50 
International customers please purchase here – Raucous Records
Teddy Boy Rock n Roll: 14 Tracks… 8 originals, 6 covers. 
Australia Only: Priced @ $21.50 includes P&P of $6.50 
International customers please purchase here – Raucous Records
---
First CD – Two Parts Whiskey. 14 Tracks… 8 originals, 6 covers (including 2 acoustic tracks
Released in July 2013. Hard copies are out of stock, but you can still purchase it by downloading on CD Baby here – CD Baby
---
T-shirts are currently out of stock, but you can buy them at Redbubble in any colour you like right here: Lincolns Merchandise
---
  Car Sticker
Lincolns Car Sticker – Teddy Boy Rock n Roll (160 x 75mm UV Stabilized). $2.50 includes P&P Australia Wide